CBAP Certification Training - Certified Business Analysis Professional Course Overview
Sprintzeal's CBAP® Certification Training in Stonecrest GA is aimed at empowering business analysts aiming for growth in Business Management, in a bid to gain knowledge and to be proficient in business analysis. CBAP Certification is the world's most popular certification that validates the experience and knowledge one holds in the field of business analysis community.
CBAP training course helps one in building foundation and expertise in the areas of validation, the business analysis of planning and monitoring, solution assessment, enterprise analysis, elicitation, requirements management, and communication.
CBAP Certification recognizes the value and expertise that an individual can bring to the profession.
The CBAP Program and Certification offers extensive excellent practical knowledge of business analysis concepts and the ability to relate to BABOK® practical scenarios. Our CBAP courseware provides just that and the support from our certified trainers ensures good quality training.
CBAP Certification Course Objectives
To achieve reliable and desired results with enhanced proficiency and consistency.
Introduction to fundamentals and practices of business analysis.
The knowledge and aptitude required to be a capable and result oriented business analyst.
To make your competence recognized and known by peers and organization.
Commitment to the profession through recertification necessities.
Establish standard that is outlined in the business analysis body of knowledge(BABOK®) version 3.0
Benefits and skills acquired from CBAP Certification
Knowledge gained helps you to meet your organization's needs better
Improved managerial skills
Understanding of framework gets you closer to new opportunities
Enhanced business and leadership skills
Improved interaction and teamwork with fellow architects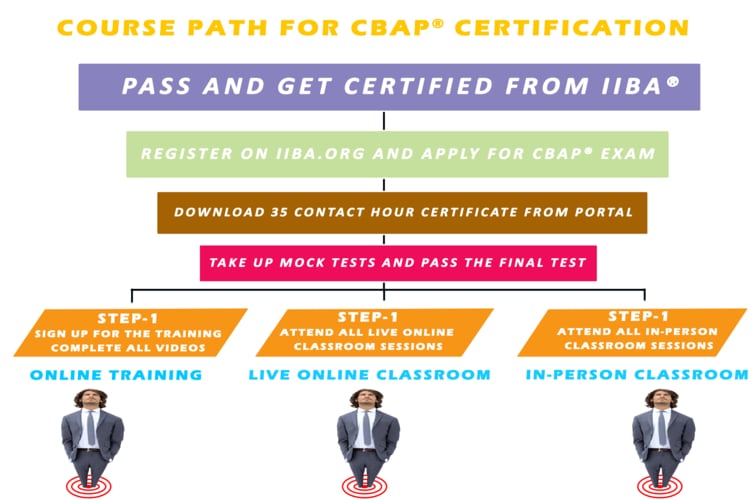 To explore all the courses offered by Sprintzeal, you can go through our all courses page and find your best fit.