COBIT® (Control Objectives for Information and Other Related Technologies) is a framework for developing, implementing, and monitoring information technology and management practices. It is a framework created by ISACA(Information System Audit and Control Associate) designed for all IT governance to bridge the crucial gap between technical issues, business risk, and control requirements. Our COBIT® training in Livonia MI offers skills to ensure the overall quality, control, and reliability of information systems in an organization, which is the most important aspect of every modern business. Sprintzeal's COBIT Certification training is highly reputed due to its high success rate.
Key Features
2/4 Day Live Online Classroom COBIT Training
Live Training No Replay, You Get To Speak to Trainer Live and Ask Questions Real Time.
Get 1 Year E-learning Access with High-Quality Audio-Video Lectures.
1000+ Mock Exam Prep Questions and Get Live Class Recordings Post Training Life Time Access
Courseware Aligned with ISACA Governing Body
Request For EXAM Voucher Post Training Completion, Might Be An Extra Charge
100% Money Back Guaranteed - We Assure you'll Pass the Exam After Taking Our COBIT Certification Training Classes
Best Price Guaranteed in the Training Industry. Trained Over 26000+ Delegates Globally
Key Features
2 Day instructor-led Classroom COBIT Training in Livonia MI
Get Exam Voucher from ISACA Post COBIT Training Completion
The curriculum is Designed to Meet Industry Standards
Soft Copy of Training Material
Courseware Aligned with ISACA Governing Body
Exam Cost is Included In the Course Fee
100% Moneyback Guaranteed - We Assure you'll Pass the Exam After Taking Our COBIT Certification Training Classes
Best Price Guaranteed in the Training Industry. Trained Over 26000+ Delegates Globally
| | | |
| --- | --- | --- |
| Live Online Training | $ 1175 | |
| Traditional Classroom | $ 3875 | |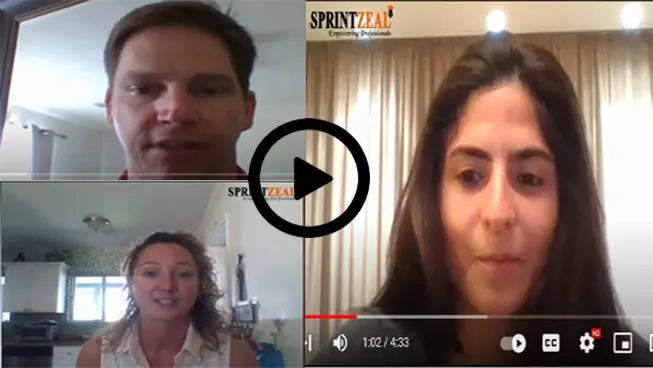 Toll Free
+1 833 636 6366
Mail Your Queries
Support@Sprintzeal.com
Corporate Training Solution
Looking for a personalized Corporate Training for a group at your preferred location?
Enquire Now
Why should I get COBIT certification? How is the demand and job market?
COBIT® is a governance framework that is accepted globally. After getting the COBIT®, you'll be well-positioned to become an IT auditor, IT quality professional, or other in-demand IT roles. This is why the COBIT course is in-demand.
A permanent uprise was recorded in the number of job citings and advertisements with COBIT® as a requirement. The COBIT course is a widely recognized certification.
The average salary of COBIT® certified professionals is $66k. That makes the COBIT course one of the most popular IT certifications.
| | | |
| --- | --- | --- |
| Live Online Training | $ 1175 | |
| Traditional Classroom | $ 3875 | |
>
Support@Sprintzeal.com
+1 833 636 6366
COBIT Certification - V5 Foundation Course in Livonia MI
COBIT Certification Training Course overview
COBIT® 5 is an IT governance framework. It encourages all organizations to govern and manage information in the most efficient and integrated manner. This COBIT certification course in Livonia MI provides various models and metrics to measure achievement while identifying the business responsibilities of IT processes. This COBIT Certification training covers major areas like planning and organizing, delivering and support, acquiring and implementing, monitoring and evaluating. One of the highlights of the COBIT certification training is that it covers a wide array of processes. The COBIT course has the ability to make you an asset to your organization due to the wide list of processes encompassed in the COBIT training process.
The COBIT course helps in designing the IT infrastructure in a manner that aligns with the business goals of the organization and meets all the requirements.
COBIT Certification Course is used in both governments as well as private sector organizations because it helps in increasing the sensibility of IT processes.
COBIT Certification Course Objectives
Meeting the needs of stakeholders
Spreading the governance from management
Application of the single integrated framework
A holistic approach to business decision making
Covering the enterprise from end to end
COBIT Certification Benefits and Skills Acquired
Improved IT governance: The COBIT course offers a complete holistic method for IT governance with an end-to-end business cycle.
Meeting industry standards: Industry standards are set benchmarks which the company must surpass to stay competitive. By adopting the standards adopted by COBIT® 5, the companies can enjoy clarity and deliver top quality work. It will provide support for a company's growth and efficiency.
Strategic alignment: The COBIT Certification framework gives you the perspective to be able to align your IT goals with large business strategies. By using COBIT® 5 businesses, you will be better able to identify the various departmental targets and create unified holistic roadmaps.
Size independent and generic: Getting COBIT training will help in choosing and picking the most relevant points and tools to focus on in order to ensure that no time is wasted in pursuing specific goals.
Networking and reputation: The COBIT course shows a commitment to effective IT governance which will grow more impressive as you continue to apply COBIT® in real life.
Sprintzeal also offers training for many other popular IT Security courses India like,
CISA® Certified Information Security Associate
Sprintzeal
Participant Reviews
COBIT Certification - V5 Foundation Course in Livonia MI
Sprintzeal COBIT Certification - V5 Foundation Course in Livonia MI Certificate Holders work at 1000s of companies like
Frequently Asked
Questions