PMI ACP Certification Training Course Overview
Sprintzeal's PMI ACP course in Montvale NJ advances careers, improve organizational success and accelerates the career in professional management through globally recognized standards, resources, tools, academic research, professional development, and networking opportunities. PMI delivers professional working, global advocacy, collaboration, education, and research.
It is one of the most popular options available for agile practitioners it demonstrates your knowledge to agile to a rapidly emerging methodology, tools, and techniques, principles, and practices. It aims to help uncover better ways to uncover developing software by providing clear and measurable structure development.
PMI ACP Certification Course Objectives
Explains the principles of continuous improvement.
Describes PMI-ACP® mindsets.
Describes concepts under adaptive planning.
Describes the best practices involved in stakeholder engagement.
Problem detection and resolution technique.
Value-driven accomplished projects.
It helps in improving team performance.
PMI ACP Certification Benefits and Skills Acquired
The practices and skills required by the PMI ACP certification themselves are building blocks in this field; some of the benefits of skills are:
High demand
Professional growth
Wide scope
Benefits the organization
Makes you marketable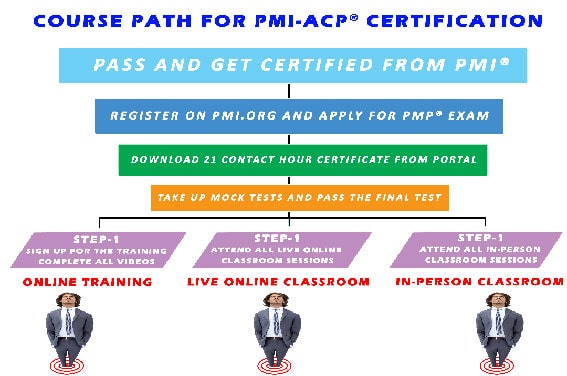 Sprintzeal also offer other popular Agile Management training in Montvale NJ like,
CSPO Certified Scrum Product Owner Certification