Download
Download
The PMI Risk Management Certification helps project professionals in exhibiting their expertise, skills, and knowledge that are most important in the project management profession. The PMI RMP certification process is administered and the syllabus is designed in such a way that the person earning the Risk Management Certification can benefit projects with knowledge and skills earned.
Get 21 Contact Hours training certificate from Sprintzeal (REP ID - 4719) to apply for PMI RMP Exam and get Risk Management Certification.
Application Assistance and 1-year Live Support Post PMI Risk Management Certification training
The PMI RMP® delivers value far into your career so it's worth the time, money and investment.
Best Price Guaranteed in the Training Industry. Trained Over 26000+ Delegates Globally.
PMI RMP Exam Application Assistance and 1-year Live Support Post-training. Get Risk Management Certification.
The PMI RMP® Certification delivers value far into your career so it's worth the time, money and investment.
PMI Risk Management Course Completion Certificate from Sprintzeal (REP ID - 4719)
Best Price Guaranteed in the Training Industry. Trained Over 26000+ Delegates Globally.
We can customise the training
Flexible pricing options
24x7 learner assistance and support
We can deliver both In-Person or Live Online
Pay after the training completion
Download Course Agenda And Company Brochure
PMI RMP - Risk Management Certification Training Course Overview
PMI RMP - Risk Management Certification is internationally recognized. The PMI RMP training from Sprintzeal in Buffalo NY is for professionals from the field of Project Management. The Risk Management Certification offers knowledge that helps minimizes the risk in projects handled by the organization. These risk management certified professionals are internationally recognized.
An individual can become a risk management certification professional only after they get certified. This PMI RMP (Risk Management) certification is the recognition and validation of professional efficiency that helps in understanding and identifying the application of strategies in controlling risk.
The PMI RMP Risk Management Certification also involves theoretical and practical based understanding.
The main aim of this risk management professional training in Buffalo NY is the professional development of a project professional. The focus is to encourage the application of risk management knowledge in varied fields across industries and geographical borders.
Objectives of PMI RMP Risk Management Certification Course
The objective of the PMI RMP Risk Management Certification training program is to offer skills, and knowledge to understand technology for storing, analyzing, and handling large amounts of projects efficiently.
This Risk Management Certification makes one proactive in managing risks improves your control on the project, minimizes losses and it plays a major role in improving shareholders' confidence and trust in you and the organization.
PMI RMP - Risk Management Certification Benefits and Skills Acquired
It increases the chances of being internationally recognized.
It covers the fundamental aspects of project management.
Getting Risk Management Certification helps you to demonstrate your skills to the employer, peers, and customers.
It helps you to become accredited as a certified professional.
Helps to increase your salary
It helps to enhance the skills and display your ability to handle challenging projects.
It helps you to find more job opportunities by adding new credentials to your resume.
It helps to enhance your credibility.
It helps to recognize your project management skills worldwide.
If you are looking for ways to advance your career in project management, getting PMI RMP certification is the best option.
Sprintzeal offers several other top courses offering PMI certificated in Buffalo NY, below are some of them
PMI SP Scheduling Professional Certification
PMI ACP Certification Training
Participant

Reviews
Eve Fan

May 17th, 22
I want to thank my training coordinator, Leonard, and trainer Abhishek for the Six Sigma Green Belt training. Abhishek is a very experienced and practical trainer who highlights the key points for the Six Sigma training for the use for my industry and my job scope. I appreciate the attention to detail and making the training lively and easy to follow. I picked the points pretty quickly and am able to apply onto my current work.
Murali Thimmegowda

May 23rd, 22
PSM 1 training by Sprintzeal was excellent. The trainer was very good and provided excellent training in a simple manner with lots of workshops, practices, and scenarios. I recommend Sprintzeal for PSM /CSM training.
James Johnson

May 19th, 22
PMP Bootcamp Learned so much during the 4-day training PMP Bootcamp. Had an amazing instructor (Gabbi), who shared the first-hand experience of what we could expect working as a certified PMP.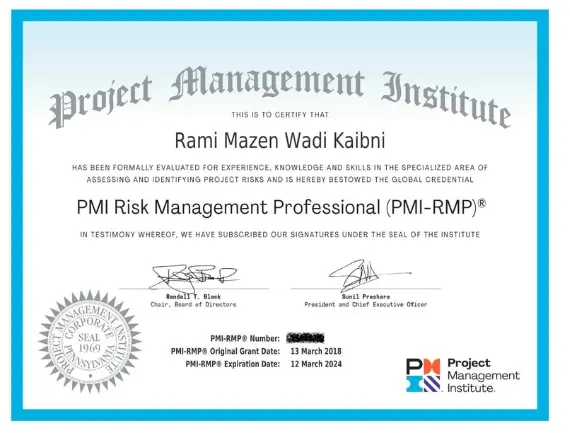 Where our Alumni Work
Sprintzeal Risk Management Certification Training in Buffalo NY, United States Certificate Holders work at 1000s of companies like
Frequently Asked

Questions
Corporate Training Solution
Looking for a personalized Corporate Training for a group at your preferred location?