Download
Download
The PMI Risk Management Certification helps project professionals in exhibiting their expertise, skills, and knowledge that are most important in the project management profession. The PMI RMP certification process is administered and the syllabus is designed in such a way that the person earning the Risk Management Certification can benefit projects with knowledge and skills earned.
Get 21 Contact Hours training certificate from Sprintzeal (REP ID - 4719) to apply for PMI RMP Exam and get Risk Management Certification.
Application Assistance and 1-year Live Support Post PMI Risk Management Certification training
The PMI RMP® delivers value far into your career so it's worth the time, money and investment.
Best Price Guaranteed in the Training Industry. Trained Over 26000+ Delegates Globally.
PMI RMP Exam Application Assistance and 1-year Live Support Post-training. Get Risk Management Certification.
The PMI RMP® Certification delivers value far into your career so it's worth the time, money and investment.
PMI Risk Management Course Completion Certificate from Sprintzeal (REP ID - 4719)
Best Price Guaranteed in the Training Industry. Trained Over 26000+ Delegates Globally.
We can customise the training
Flexible pricing options
24x7 learner assistance and support
We can deliver both In-Person or Live Online
Pay after the training completion
Download Course Agenda And Company Brochure
PMI RMP - Risk Management Certification Training Course Overview
PMI RMP - Risk Management Certification is internationally recognized. The PMI RMP training from Sprintzeal in Sugar Land TX is for professionals from the field of Project Management. The Risk Management Certification offers knowledge that helps minimizes the risk in projects handled by the organization. These risk management certified professionals are internationally recognized.
An individual can become a risk management certification professional only after they get certified. This PMI RMP (Risk Management) certification is the recognition and validation of professional efficiency that helps in understanding and identifying the application of strategies in controlling risk.
The PMI RMP Risk Management Certification also involves theoretical and practical based understanding.
The main aim of this risk management professional training in Sugar Land TX is the professional development of a project professional. The focus is to encourage the application of risk management knowledge in varied fields across industries and geographical borders.
Objectives of PMI RMP Risk Management Certification Course
The objective of the PMI RMP Risk Management Certification training program is to offer skills, and knowledge to understand technology for storing, analyzing, and handling large amounts of projects efficiently.
This Risk Management Certification makes one proactive in managing risks improves your control on the project, minimizes losses and it plays a major role in improving shareholders' confidence and trust in you and the organization.
PMI RMP - Risk Management Certification Benefits and Skills Acquired
It increases the chances of being internationally recognized.
It covers the fundamental aspects of project management.
Getting Risk Management Certification helps you to demonstrate your skills to the employer, peers, and customers.
It helps you to become accredited as a certified professional.
Helps to increase your salary
It helps to enhance the skills and display your ability to handle challenging projects.
It helps you to find more job opportunities by adding new credentials to your resume.
It helps to enhance your credibility.
It helps to recognize your project management skills worldwide.
If you are looking for ways to advance your career in project management, getting PMI RMP certification is the best option.
Sprintzeal offers several other top courses offering PMI certificated in Sugar Land TX, below are some of them
PMI SP Scheduling Professional Certification
PMI ACP Certification Training
Participant

Reviews
Linda Parrish

May 18th, 22
Awesome CBAP Test Prep Course with Excellent Customer Service. In March 2019, select staff from two of our departments partnered up to undertake the CBAP Test Prep course offered by Sprintzeal. I learned the BABOK was difficult to comprehend until our trainer, Delilah Allison, explained the book's layout and the meaning behind each section. Her teachings enable me to grasp the Business Analysis concept (even though most of my tasks were in a project management world). Our Account Manager, Alex Wood, provided excellent customer service going above the call of duty to ensure our satisfaction. We did encounter some hiccups along the way which were either resolved or addressed in an expedited manner. Also, the price per person was reasonable compared to what was offered and what other companies offered. My overall experience with Sprintzeal is a positive one. I would definitely recommend the class. Source - Trustpilot
Josh Rhie

May 22nd, 22
Awesome teacher and mentor!
Russell Deatherage

May 12th, 22
PMP Boot camp by Syed M. Quadri on 21-25 Oct 2019. Excellent class. Mr. Quadri presented sound information and gave logic advice that was helpful to tie the information together for memory. Great point on the ITTO's that I and O are nouns and TT's are verbs or actions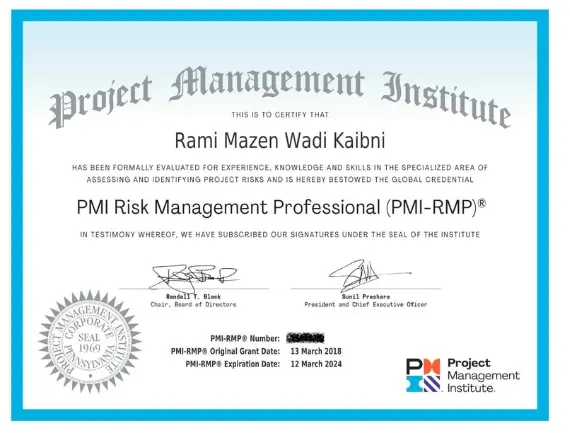 Where our Alumni Work
Sprintzeal Risk Management Certification Training in Sugar Land TX, United States Certificate Holders work at 1000s of companies like
Frequently Asked

Questions
Corporate Training Solution
Looking for a personalized Corporate Training for a group at your preferred location?