Introduction to Operational Planning
Out of the main 12 principles of project management, planning is the most important principle of all. An essential tool that can help you achieve your goals is effective Operations Plan. The importance of a well-defined operations plan in today's active business environment cannot be overstated.
Adding up to a strategic plan alone is not enough, which is why an operation plan in the daily work activities of any organization is essential. This is the reason why companies likely fail and lose good employees when they have a wonderful strategy but without rich planning.
An Operational Planning outlines how your organization will achieve its objectives efficiently and smoothly, acting as a guide for your organization towards achieving its objectives with efficiency and finesse. You may make your project objectives drive your company's success and give it the structure and direction needed for sustained growth with the help of well-crafted operational planning.
Most of the outcome expected from the resources with their work is known, so it's apt to prevent the cost of poor quality in your business with the applicable operating planning process. How do you start, though? How do you make an operational plan for your firm that is effective and covers every important component? What are the applications?
This blog post will guide you through the steps of creating an extensive operations plan that positions your company for success. We shall also discuss what is operational planning, its importance, tips to create one, and related FAQs.
What is Operational Planning?
An operational plan is a process of executing your strategic planning into a map that describes detailed level work processes for specific outcomes. It is a document that outlines and aligns task activities, key events, and timelines that accounts for the finish to execute the strategic plan. Operational planning focuses on day-to-day running, and execution by teams and managers with short or long-term goals, capabilities, and budgets of the company.
There are three levels of planning i.e., strategic plan, tactical plan, and operational plan. To properly understand how operational plans work and run the first step is to focus on the whole planning process within a business.
Creating an operational plan not only keeps the teams and their tasks on track but aids in decision-making and in alignment with a long-term strategy.
Importance of an Operations Plan
An Operations Plan plays a pivotal role in ensuring that your business operations are aligned with your overall strategic goals. It helps in establishing a clear direction, defining responsibilities, and coordinating activities across different departments.
By detailing the important aspects of your tasks, starting with resources and schedules, operational planning offers a foundation for efficient decision-making, allocation of resources, and managing risks. All stakeholders can use this framework as a reference, which guarantees that everyone working on the project stays on a similar path and pursue the same objective.
Now that we have understood the importance of an Operational Planning process, let's now discuss and understand how Operational Planning is going to benefit the organization and the project management team.
Impacts of an Operations Plan:
Advantages:
Improved Efficiency-
You may find inefficiencies, simplify procedures, and better allocate resources with the aid of an operations plan. You can increase productivity and lower operating expenses by getting rid of bottlenecks and redundant processes.
Strategic Alignment-
If your operations follow your overall business strategy, your efforts will be focused on achieving your long-term objectives. Making decisions that are consistent with your strategic aim is made possible by having an operations plan, which helps you stay on track.
Resource Optimization-
With an Operations Plan, you can effectively allocate and manage your resources, including human capital, equipment, and finances. This optimization leads to improved productivity and cost-effectiveness.
Disadvantages:
Rigidity-
An overly rigid Operations Plan may hinder adaptability and responsiveness to unforeseen circumstances or market changes. It is essential to strike a balance between structure and flexibility in your plan.
Resource Constraints-
The creation and implementation of an operations plan may need additional time and financial resources. It is crucial to ascertain whether allocating these resources is viable before committing to a full plan.
Benefits:
Clear Direction and Focus-
An operations plan provides a clear direction and focus for your organization. It aligns everyone towards common goals, ensuring that efforts and resources are directed towards achieving desired outcomes.
Improved Efficiency and Effectiveness-
By analyzing and optimizing processes, an operations plan improves efficiency and effectiveness. It helps identify bottlenecks, streamline workflows, and eliminate unnecessary steps, ultimately leading to cost savings and improved performance.
Risk Mitigation-
An operations plan enables proactive risk management. By conducting a thorough analysis of potential risks and incorporating contingency plans, you can minimize the impact of unforeseen events and maintain operational stability.
Enhanced Decision-Making-
Decision-making is improved by having an operations plan in place since it is more organized and informed. It offers a framework for weighing trade-offs, assessing possibilities, and coming to data-driven decisions that are in line with the overarching corporate strategy.
Operational Planning vs Strategic Planning
Though the two plans are interconnected, the planning strategies vary.
Operational Planning:
Operational planning (work planning) is the process of outlining work to execute a strategy that focuses on the immediate future or in the next fiscal year. It verifies that all the action items, activities, and timelines are on track to complete the work proficiently.
Strategic Planning:
Whereas, strategic planning describes the high-level goals, identifies the pipeline, features how to work, and develops a plan to achieve the long-term goals for the next 2 to 5 years.
Process of Creating an Operational Planning
For creating an effective operational plan, project managers follow a few steps that help them clearly understand the requirements and objectives of the project. This helps create an effective plan and ensures that the team is ahead of the deadlines. This allows every project team and its members to have a clear idea of the project and its deliverables.
1. Define Objectives
Begin by clearly defining your operational objectives using the SMART (Specific, Measurable, Achievable, Relevant, Time-bound) framework. To ensure alignment with your overall business goals, these objectives should be precise and quantifiable. In order to boost customer satisfaction, for instance, you can set a target to cut the time it takes to respond to client enquiries by 20% within the next six months.
2. Identify Key Activities
Identify the key activities necessary to achieve your defined objectives. Break them down into smaller, manageable tasks. Prioritize these activities based on their importance and impact on the overall operations. This step helps you establish a clear roadmap and focus your efforts on the most critical tasks.
3. Allocate Resources
Determine the resources required for each activity. This includes human resources, equipment, technology, and finances. Assess the availability of resources and allocate them effectively to ensure smooth execution. Optimize resource allocation to maximize efficiency and minimize waste.
4. Establish Timelines
Set realistic timelines and milestones for each activity. Consider the dependencies between tasks and the availability of resources. Establishing clear timelines helps you track progress and ensures that activities are completed within the desired timeframes. Regularly monitor and adjust timelines as needed to stay on track.
5. Assess Risks and Develop Mitigation Strategies
Identify potential risks that may impact your operations. Evaluate the likelihood and potential impact of each risk and develop mitigation strategies to address them proactively. This could involve creating contingency plans, implementing backup systems, or establishing alternative suppliers. By anticipating and managing risks, you can minimize disruptions and ensure continuity in your operations.
6. Monitor and Evaluate
Continuously monitor and evaluate the progress of your operations against the defined objectives. Regularly review performance metrics and key performance indicators (KPIs) to assess the effectiveness of your operations plan. This enables you to identify areas for improvement, make necessary adjustments, and optimize efficiency. Gather input from key stakeholders and utilize it to continuously improve your operations plan.
You may construct a thorough and efficient Operations Plan that ties your operations to your business goals by following this step-by-step procedure. This makes it possible for you to optimize resource use, streamline operations, reduce risks, and promote success.
Seven Steps to Create an Operational Planning Process
Below are the seven core steps on how to craft an operational plan and keep your teams on track with your strategic approach.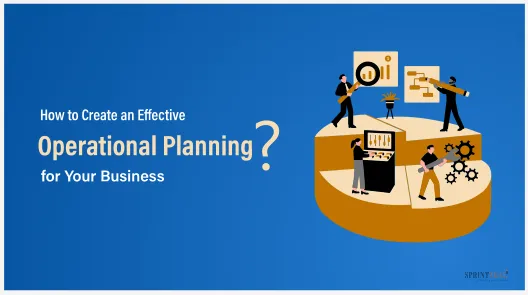 Step 1: Begin with a strategic plan
To start with any tasks to process, you definitely need a strategy! Come up with a strategic plan on the first note. It is very important to look at the overall goals, determine position, and risk factors, and monitor the plan and other factors of your business before outlining the tasks in detail.
Step 2: Categorize activities as per the relevancy order
What makes work focusable is figuring out the weights of important tasks to complete within the given deadlines.
Given that, the goals set up can align with the priority tasks for the subject areas to achieve them. It is a fantastic way to sort resources, tasks, and team efforts in the right manner.
Step 3: Define your Mission, Scope, and Objectives
Keep the question in your mind - Each enterprise, organization, or individual needs to set up a proper vision, mission, goals, objectives, and strategies to achieve and profit their business.
To start and analyze, here is a set of questions to ask;
- What are the goals and vision of the company for the next few years and approaches that might brace for the operation plan?
- What are the changes and progress been done in the previous years?
- What is the round of capital?
- What are the strategic approaches taken over the last few years and KPIs?
- Are the resources enough to reach the number of goals set?
In this way, it'll be helpful to have a mapping view of your company's performance with the objectives, missions, and business strategies to achieve or meet those set goals.
Step 4: Know your key stakeholders
It's important to decide who and what will be considered in the operational planning process before making the operation plan. On creating the operation plan, the team must share, discuss and review it with the head of marketing for approval or further changes. Once they've created their operational plan, the team should share the plan with the head of marketing for final approval.
By identifying your stakeholders, you will include team members who are interested and engaged in your business. According to it, the teams making the operation plan will take on the plan map. Moreover, the key stakeholders assist in decision-making, reduce risks and boost business growth.
Step 5: Make an effective operation plan
Now that you have all the core areas ready, the next step would be to create an operational plan for your immediate future.
These will include:
- Goals to achieve from the plan
- Sets of tasks to reach the SMART goals
- Distribution roles and responsibilities with a solid hiring plan
- Provide a budget summary
- Stipulate performance indicators
- Approaches to monitoring and reporting on progress
- Evaluate, optimize, and improve for success
Step 6: Discuss, Share & Update
It's advantageous to share, present, and update your operational plan with your team members and key stakeholders. A good operational plan not only helps to concentrate on the precise steps to make business ideas obtainable but assists directly and indirectly with short-term goals or long-term goals.
This way, it will help you to add up ideas or measure of missing out on the competitive view into your business and execute properly.
Step 7: Consistent communication
Make certain to keep clear communication with your team members as they take the center on to complete the goals set, strengthen the business, and increase the profits for an organization.
In a nutshell, any silos in between the work processes and confusions will likely get solved and drive to more approachable ideas or solutions.
Bottom Line
Operational planning comes in handy for day to day running of the organization. This plan is very useful for individuals and remote workers apart from enterprises. It documents and gives control through daily/weekly/monthly reports. Thus, learning how to create and implement the operational plan requires key factors of regular meetings, assigning activities, reviewing and revising position descriptions, conducting training, mentoring, tracking, monitoring, and measuring the expected outcomes and systems.
Knowing how to define responsibilities, day-to-day tasks, and activities to support the whole team or goals and outcomes to measure to achieve the plan is remarkable for any industry.
Therefore, it is worth it to gain knowledge and hone skills with career opportunities, especially in the management of projects and quality measures.
In this article, you've learned how to create an effective operations plan to drive your business towards success.
To conclude, an operations plan provides a roadmap, but consistent evaluation and adaptation are vital for sustained growth. For companies of all sizes, developing an operations plan is essential to streamlining operations, increasing efficiency, and achieving strategic goals.
You may optimize your operations and produce outstanding results by properly aligning your resources, objectives, and plans. The essential steps and strategies will help you build your operations plan. Adaptability and consistent evaluation are the keys to sustained growth.
Ready to streamline your business operations and achieve success? Enroll in our Project Management Professional (PMP) Certification Training to discover the top techniques and methods for formulating and putting into action a successful Operations Plan. Take your business to new heights.
Sprintzeal also offers courses in quality management that can level your career and get a certification. To get full details or queries for all courses, reach us by email or chat with our course expert.
You will be given the knowledge and skills necessary to succeed in this important sector through this in-depth course's comprehensive insights regarding operations management procedures. So why do you still wait? Start building your operations plan today and let your business thrive!
Visit Sprintzeal today and enroll in your desired course to unlock your full potential. Take charge of your business's success and embrace the power of a well-crafted operations plan.
Frequently Asked Questions
What is the purpose of operational planning?
The purpose of an operation plan can be multiple but the common one can be;
- New product
- Upgrade facilities
- Improvisation of working procedures
- Expansion of business
- New project goals
- The impact of marketing campaigns
- Describes short-term business strategies
- Progress toward the accomplishment of business goals
What are the four steps in operational planning?
Below are the four steps in operational planning
- Determine your company position
- Establish your business strategy
- Create a strategic plan
- Present, track, and control your strategic plan.
What are the 3 operational plans?
The three operational plans are strategic, tactical, and operational.