Sprintzeal's CISA® training in Palo Alto CA is aimed at professionals who have an interest in information systems audit, control, and security. It is renowned globally as a standard for business systems and information technology professionals who audit, monitor, access, and control data.
To receive CISA® certification, the candidate must pass the exam and satisfy the comprehensive work requirements of an industry. The candidates must undergo continuing educational and professional development and adhere to the code of professional ethics and information systems auditing standards.
CISA® certification has become an essential criterion for making a career in IT security. It helps an employer in identifying the skills of a candidate which include expertise in managing vulnerabilities, instituting control, and ensuring compliance.
Course objectives
Offering in-depth knowledge about the organization's security, policies, standards, procedure, and controls.
Skills to ensure the confidentiality, integrity, and availability of information assets.
The main focus of the training and courseware is
To understand the structure of CISA® exams
To enhance your understanding of IS audit processes and also help you understand how to protect information systems
To describe CISA®, demonstrate your understanding of ISACA of CISA® and the current CISA® syllabus as well as describe the value of CISA®.
Confirms your knowledge and experience
To demonstrate that you have gained and maintained the level of knowledge to meet the dynamic challenges of modern enterprise
To help quantifies and market your expertise
To help achieve high professional standards through ISACA's requirements for continuing educational and ethical conduct.
To help increase your value in the organization.
Benefits and skills acquired
The practices and skills acquired by the CISA® certification training serve as building blocks for professionals in the IT security field. Some of them are mentioned below,
Increased value to the organization
Validated experience and knowledge in the field
Marketed and quantified expertise
Global recognition as an IS audit professional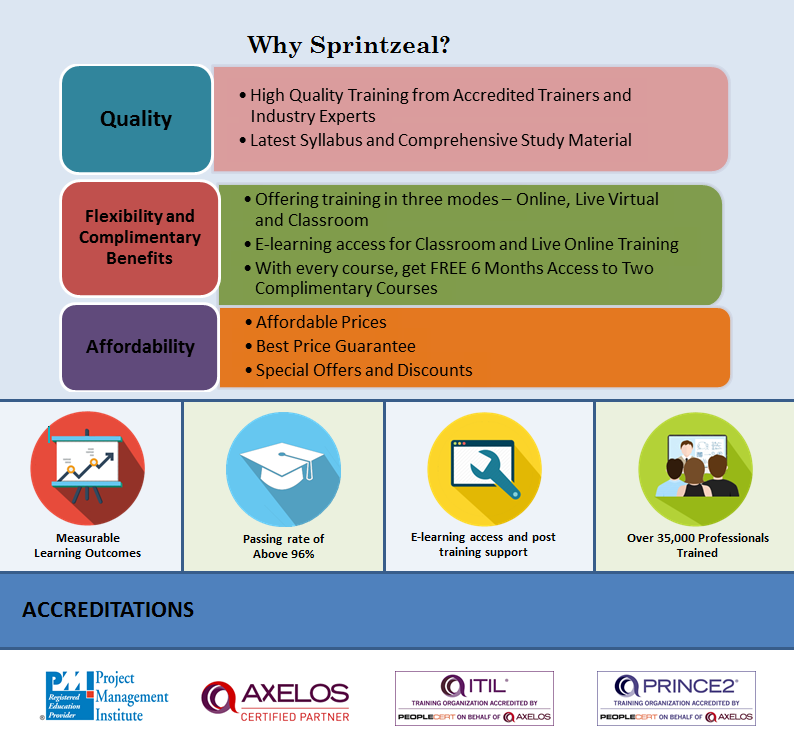 Sprintzeal also offers training for CISSP®, COBIT® 5 Foundation, and many other popular IT Security courses.